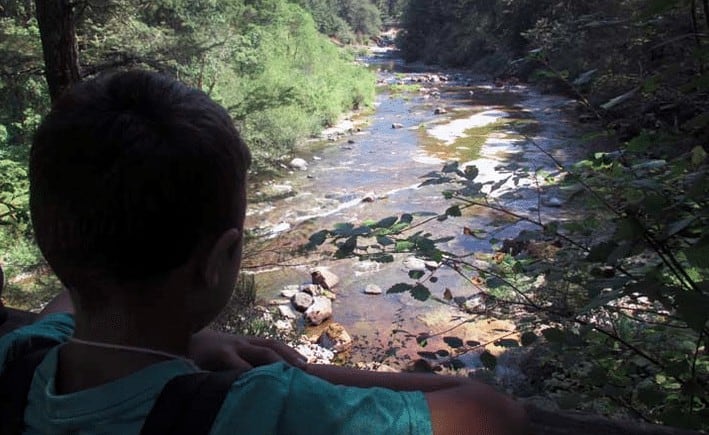 Searching for a great place to hold your church camp?  What about the Fall business retreat?  If you are looking for a summer camp rental, in southwest Washington, Camp Wa-Ri-Ki has a very affordable camp rental program for you and can accommodate groups with up to 220 campers attending.  Contact us also for Fall and Winter retreat options.

Top 5 Reasons Groups Love Camp Wa-Ri-Ki
Friendly onsite Camp Hosts to help greet and get you situated
The memories — we have alumni that tell stories from the heart about their visits to Camp Wa-Ri-Ki decades ago!
The beautiful trails and Washougal River
The large kitchen where Everyone can pitch in and enjoy Camp meals
The outdoor stage, campfires, and large indoor gymnasium for gatherings, shows, and sporting events
BONUS:  New Retreat Center now available  Add on to a regular Camp rental, or rent for separate events.
Send your Reservation Request Online HERE
Camp User Fees
Reservation Fee: An off-season reservation fee of $500 is required to hold a date. Will be applied to overall cost of stay.
On-Season (June 1st through August 31st) — Minimum Overnight rental  – $825 per night up to 55 people ($15/night/person)
(From Sept 1st -May 30th) – $540 per night up to 35 people. Additional $12 per night, per person, for groups over 35. Rent the entire camp – $2,750 per night with a 2-night minimum. 
Add $490/ night to ensure no other organization will use any of the facilities.
Off-Season (October 1st through May 31st) — Check with camp host for off-season special rate. 
Check-in: 3:00pm Check-out: 12:00pm (noon) $75 per hour for early check-in or late check out. (Example: group wishes to check-in at 12 noon or group wishes to check out at 6pm: $75 per hour x 3 hours early = $225 early check-in/late check-out fee)
Day Use Fees
There is $8.00 per person DAY USE FEE for guests of groups renting the Camp if those guests only stay for the day's events and do not use the Camp to stay overnight ($540 minimum).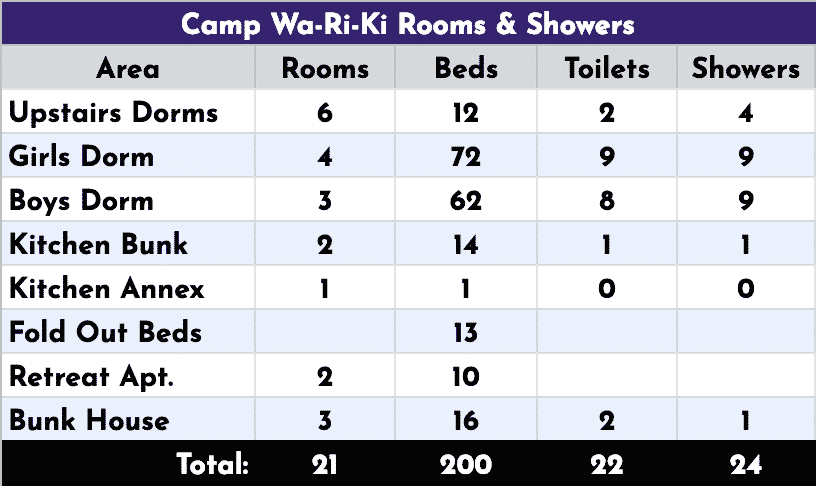 Retreat Center Apartment
2 bedroom, 1 bathroom, furnished apartment with full kitchen. Sleeps up to 10 people.
Rent either the retreat apartment with kitchen (table seats 8) for $150 per night (sleeps 10 in bunks) and/or the bunkhouse with small kitchenette and sofa area plus bunks for 16 for $240 per night. Add the Conference Room at $150 per day.