Get excited, because Camp Wa-Ri-Ki has some incredible camp goals for 2020! Of course, we will continue to enhance our Camp so that it positively impacts our community. And currently, we are gearing up to upgrade more of our facilities. Want to hear about some of our new goals?
Our goals in 2020 are to increase our local youth impact to 5,500. Plus, we'd also like to serve more teens and adults (our goal is 1,000) by expanding learning opportunities. These learning opportunities include adding our first full week of Summer Camp while improving leadership growth. And, we'd also like to create physical education areas so that everyone can enjoy the grounds and gymnasium.
The Board sees 2020 as a great year of transition from primarily a rental Camp to an operational Camp serving the needs of those described in our mission. The Kiwanis International Mission is to:
"Empower communities to improve the world by making lasting differences in the lives of children."
We're pleased we can do this for kids from a high percentage of lower-income families.
Check Out Some of our Camp Goals for 2020 and Beyond:
1. First Annual Fundraising Event
Our First Annual Fundraising Event is tentatively scheduled for May 20th. The event will likely be a luncheon this year with:
Business sponsorship of tables
A speaker/program
Another fundraising component such as an auction or bingo
We are currently looking for food sponsors and local business support, so if you're interested or know of anybody, please contact us and let us know!
2. Expansion of Programs
Camp Wa-Ri-Ki would like to continue the drive toward our Summer Camp series. We are expecting
to expand our "Nature Days" events from three to seven this year, with a continuation of our successful
overnight experience (a first in 2019).
3. Expansion of Amenities
As per the Growth Survey (see below), we are looking to update the playground, add an archery range, and additionally, consider adding a climbing wall on one side of the gym.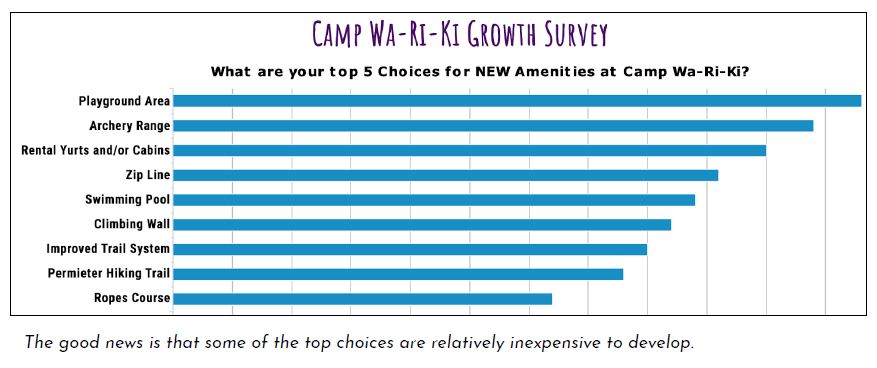 We have some soccer equipment and would like to see this activity developed. Grant writing is in the works.
4. Grow Rental Revenue
We are, for the first time, well-positioned to offer not only rentals of the larger Camp with dorms, but also a newly renovated "Retreat Center" and bunkhouse facility — and, a brand new conference room completed in 2019. We have also added a new meals/catering option.
5. Expansion of Our Major Fundraising Activities
Last year we more than doubled our giving results in the popular local event #GiveMore24 (we raised $7,500 in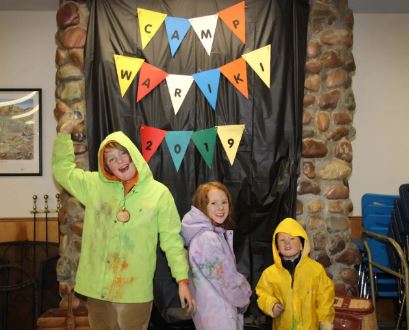 2019). There are four major components to our fundraising focus:
The new annual event/luncheon
The ongoing drive for "sustaining benefactors" (those donating monthly continuously)
#GiveMore24
#GivingTuesday
In addition, a legacy giving program is in the works. See: http://campwariki.com/contact-us/donate/
Two more firsts! The Camp has received a Gold Star of Transparency at GuideStar.org. And, we're approved for "peer to peer" fundraising on Facebook (i.e., you can hold Wa-Ri-Ki fundraisers for your birthday, etc.).
6. Business Sponsorship Program
We will implement a new sponsorship program which will reward business donors with (depending on the level of giving) recognition including:
A framed certificate for your business
Logo on our website
Social media posts featuring your name (we grew our social media
followers in 2019)
The ability to help sponsor campers at our expanded events lists
7. New Development Committees
To drive all these initiatives, we want to climb the ladder of growth!
We plan to convene committees for Business (Business Plan completed 1st Q 2020) and Comprehensive Planning. (We're looking toward building a brand new dining hall and lodge.)
8. Board Growth
Finally, we recognize that our long term vision and success relies upon a vibrant Board
composed of members who are engaged and support camp initiatives and fundraising efforts. We
need to build and grow influential participants who can lead. And, we also want to increase new members positioned for best succession result. We plan to work on this throughout 2020 and beyond.
This is also a career and resumes building opportunity as you help us develop Kiwanis Camp Wa-Ri-Ki!
To help Camp Wa-Ri-Ki Climb the Ladder, contact us today or email us at info@campwariki.com.