Hey Adults, here is your chance to go to camp! It's YOUR time to enjoy the outdoors, learn, have fun, make new friends, and laugh – a lot!
Camp Wa-Ri-Ki presents, Nature's Way Sip and Paint!
This program connects you to nature and inspires your creativity.
Here are the details:
Saturday, November 6th, 2021 | 12:00pm – 4:00pm (overnight stay in our bunkhouse* is available for a nominal fee).
We will use our state-of-the-art conference center to enjoy a glass or two of wine – or some non-alcoholic beverage choices too along with savory and sweet snacks while you paint.
Your pre-ordered canvas will be waiting for you along with paint and brushes needed to complete your painting. The photo below shows one of many pictures you can select!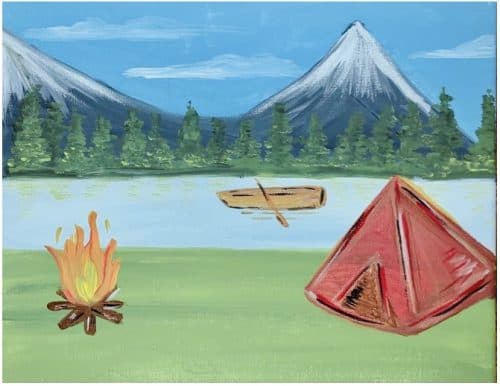 Below are the many canvases you can chose from for the event! Select your canvas number and insert in the form below as part of your registration.
We will have fun and inspiring music to enjoy while you sip, paint and visit with other campers!
Enjoy your weekend at camp by staying in our Bunkhouse. This space will remind you of your childhood camp weekends. It sleeps 16 in bunk beds. There are two rooms that sleep 4 and one larger room sleeping 8. It has 2 toilets, 1 shower, washer/dryer. It has a refrigerator, microwave, coffee pot and limited dishes. From the Bunkhouse you will have access to the Washougal River, Sky Deck View Point of the river and natural walking trails throughout camp.
IMPORTANT NOTE: You will need to bring a sleeping bag and pillow; or you can use twin size sheets and blankets. If you decide to stay, we will contact you for more details about your accommodation needs and bunk assignment. Campers from the same family will share space. Campers from different families will be placed to ensure health safety based on the State's COVID prevention protocols.
Participating in this program supports Camp Wa-Ri-Ki as well as the wonderful organization, Young at Art.
---
Ready to register? Great, just use the form below to secure your spot!