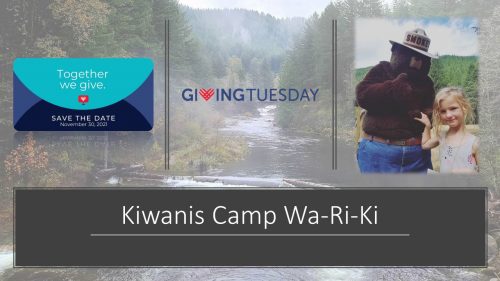 The Story of #Camp4All
Why Camping Matters
Kids learn important life skills at Camp Wa-Ri-Ki where they unplug from devices and interact with nature. We know learning outdoor skills and experiencing all nature has to offer helps build resiliency, self-confidence and decision-making skills. Even adults benefit from unplugging and being in nature!

Everyone can find amazing experiences at Camp Wa-Ri-Ki
     — Youth and schools participate in our NASA GLOBE STEM/STEAM programs
     — Adults seek self-improvement opportunities
     — Businesses bring employees together to strengthen skills and teamwork
     — Organizations bring clients to take advantage of the healing opportunities offered in the great outdoors

Camp Wa-Ri-Ki is home to diverse, fun and educational opportunities for all ages and interests!

Kiwanis Camp Wa-Ri-Ki is located in Washougal, Skamania County, Washington on 18+ acres of beautiful land in the heart of the Gifford Pinchot National Forest. It is our mission to provide an outdoor experience that offers optimal development of at-risk youth and our communities' through recreational, educational and leadership opportunities. We are celebrating 65 years of continuous service and 45 years of Kiwanis stewardship (1956-2021) through our Outdoor Education, Retreat and Conference Center facilities and programs.

Kiwanis International and Camp Wa-Ri-Ki have adopted a resolution that encourages leaders and members to build a culture and maintain environments that develop and nurture mutual respect for all celebrating diversity, equity and inclusion in our programs and operations. Camp Wa-Ri-Ki appreciates the Cascade tribe's long history and traditional territory. The Southwest Region of Washington State reflects the ancestral homes of First Peoples including the Cowlitz, Yakima and Klickitat tribes. The First Peoples of Skamania County called themselves, Chilluckittequw; later named Cascade by white settlers. We acknowledge that we are on the ancestral lands and traditional territories of the Chilluckittequw People.

At Camp Wa-Ri-Ki, we offer programs for all ages in four categories: (Many camp activities integrate with local school's STEM and STEAM curriculum.)
     — Nature-based Learning
     — Leadership and Personal Development
     — Fun, Exploration and Adventure
     — Outdoor Skills

Camp Wa-Ri-Ki amenities include:
     — full-size gymnasium
     — commercial kitchen
     — boys and girls dorms and counselor quarters
     — retreat center
     — conference center with state-of-the-art media
     — a wide range of outdoor meeting areas that are also used as a natural setting for outdoor weddings, celebrations, and large group gatherings

We sincerely appreciate and value your financial support. Come to nature with us soon!
---