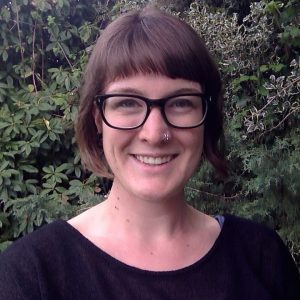 Meet Elliot, the New Camp Development Coordinator.
Elliot Olson is excited to join Camp Wa-Ri-Ki as the new Camp Development Coordinator.
An educator, writer and tech specialist, Elliot has worked at outdoors camps and taught students both locally and internationally. She is excited to be joining Camp Wa-Ri-Ki, and is looking forward to expanding the camp!
Originally from California, Elliot moved to the Pacific Northwest in 2008 and hasn't looked back since. She has a wide range of professional experience, and has worked as a website designer, social media strategist, and online development coach for small businesses and entrepreneurs.
Elliot has organized nonprofit volunteer groups and worked with a wide range of students. In addition to volunteering at Portland high schools, she has also traveled to assist international teaching opportunities. Most recently, she spent three weeks in Uganda, teaching at a holiday program and coordinating program logistics for faculty and staff.
Elliot is passionate about cultivating awareness of nature in youth. She grew up hiking in the Sierra Nevada mountain range and exploring California's central valley and foothills. She works to ensure that today's youth have similar opportunities to experience nature.  She will focus on a set of new development initiatives for the Camp, including Alumni Development, new fundraising events, and grant writing initiatives.
When not working on marketing, community relations and volunteer organization for Camp Wa-Ri-Ki, she can be found hiking in the Gorge and exploring the Pacific Northwest's beautiful scenery.
—
Among other projects, Elliot is currently working on collecting stories from Camp Wa-Ri-Ki alumni. If you or someone you know went to Camp Wa-Ri-Ki as a youth, please get in touch with Elliot at development@campwariki.com.